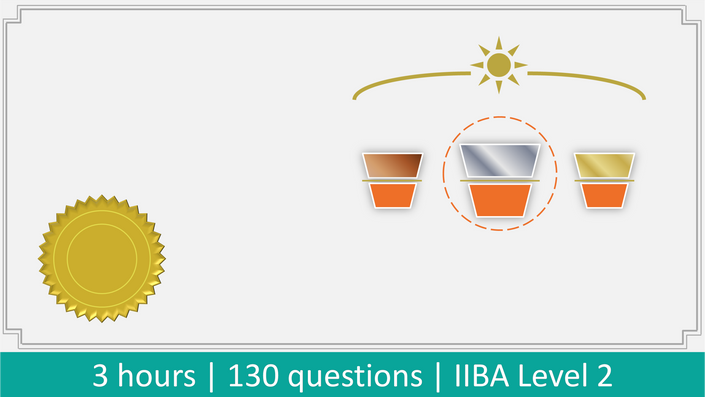 IIBA CCBA Business Analysis Certification Exam - Practice Test
Assess your preparation and identify your areas of improvement before your final CCBA Exam
Enroll in Course
30-Day Money-Back Guarantee
What you'll learn

Assess you preparation

before you take your final IIBA

CCBA (

Certification of Capability in Business Analysis) exam

Identify areas of improvements or knowledge areas that would require additional preparation
Requirements
You should have finished your initial round of preparation for IIBA CCBA Exam (attended IIBA CBAP CCBA Business Analysis Certification Course and/ or self-study using IIBA BABOK Guide v3.0)
You should be fulfilling eligibility requirements (of 3750 hours of experience in business analysis) specified by IIBA for Certification of Capability in Business Analysis (CCBA)
Description

Included in this IIBA CCBA Practice test:
Total 130 Questions | 3 Hours of time
Scenario based exam
Based on IIBA BABOK Guide version 3.0
Show more/ Hide




From the date of approval of your IIBA application you get 1 year to appear for the IIBA exam and preparing for an IIBA CCBA certification usually takes anywhere between 3 months to 6 months. So, after enrolling, you will be access this practice test 3 times for 1 year.

These questions are NOT official questions from IIBA.

The questions are, however, comparable to an examination in terms of formulation, difficulty and covered subjects. The number of questions, as well as, the available time correspond to the "official examination".

About IIBA Certification of Capability in Business Analysis (CCBA):

Certification of Capability in Business Analysis (CCBA) recognises BA practitioner who are result oriented and who actually perform the business analysis work. These individuals may or may not have official title as business analysts but have experience and skills to perform business analysis work.

This level has prerequisite of 2 to 3 years of experience in business analysis.

This level will test applicant's knowledge as well as experience in business analysis in form of a scenario based exam. The situation based questions are designed to test competencies and ability to apply experience in a given situation to choose the best course of action. These are practical questions that will test what a BA performs on a daily basis to validate business analysis experience. This level requires periodic re-certification.

Who this course is for:


Business Analysts aspiring for IIBA CCBA Business Analysis Certification

Business Analysts with at least 2 to 3 years of experience
Course Curriculum
IIBA CCBA Certification Practice Test
Available in days
days after you enroll
3 hours of time | 130 questions | Scenario based exam
Your Instructor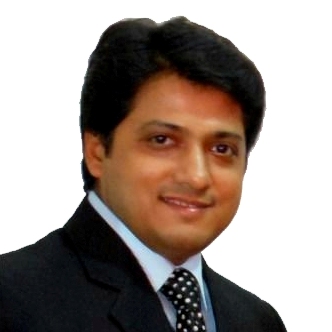 Trividh has about 20 years of experience in Business/ Process Analysis, Consulting, Pre-sales, and Project Management in Insurance (Life/ P&C / Healthcare / Social Security), Banking, Lending, Media and Sports domain.

In past, he has worked for leading IT Services companies such as Capgemini Consulting, Wipro Technologies, Syntel Inc. etc as Business Architect, Lead/ Sr. Business Analyst, and as IT Project Manager. He has executed several business analysis projects for reputed organisations from USA, UK, Europe, Middle East, Japan and India. He has good track record of leading team of Business Analysts to deliver business analysis projects.

Trividh Patel has done Master of Management Studies (MMS) in Systems from Jamnalal Bajaj (JBIMS) and Bachelor of Engineering (Electronics) from VJTI, University of Mumbai (India) and is Certified Business Analysis Professional (CBAP) by International Institute of Business Analysis (IIBA, certificate# 13430221), Canada since March 2012. Trividh is also Certified Six Sigma Black Belt (CSSBB) by MSME, Government of India.
For guidance or queries, connect >

Trividh Patel, CBAP | LinkedIn
Student feedback
3.8 ★★★★✰ (45 ratings)
| | | |
| --- | --- | --- |
| ★★★★★ | | 40% |
| ★★★★ | | 29% |
| ★★★ | | 27% |
| ★★ | | 2% |
| ★ | | 2% |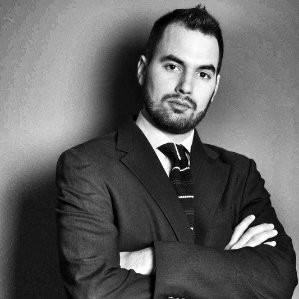 Felipe S. Ryckewaert | Recipient of IIBA Level 2 - CCBA Certification
★★★★★
Great exam practice! I feel it has helped me gain the confidence to request the exam.
Trividh Patel, CBAP
Instructor response
My heartiest congratulations on passing IIBA CCBA exam! Well done.

Abdulaziz Abdoh
★★★✭✰
I expected there will be a comment on each question explaining why the "correct" choice is the correct one. However, only complex questions or arbitrary questions seem to have that feature.
Trividh Patel, CBAP
Instructor response
Explanation is provided for complex as well as chosen questions wherever it is required. To clarify BABOK guide concepts, enrolment to IIBA certification course is advised.

Cristina Nastase
★★★✭✰
Good variety of questions. Some of the questions weren't clear enough. Thank you.
Trividh Patel, CBAP
Instructor response
Thank you for your feedback. Kindly share question numbers that weren't clear enough. You are likely to find certain questions ambiguous in actual exam as well. They are designed that way.


Davi Noleto
★★★★✰
Bom conteúdo.
Trividh Patel, CBAP
Instructor response
Obrigado.

Lindsay Slabbert
★★★★★
This course provided a good interrogation of the BABOK material.
3 hours of time | 130 questions | Scenario based exam
30-Day Money-Back Guarantee