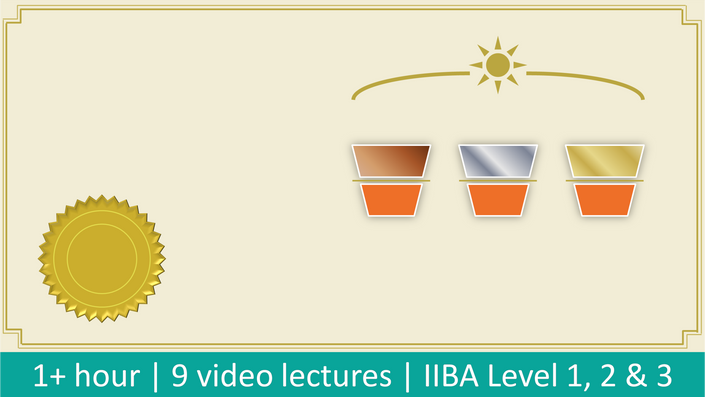 IIBA CBAP CCBA ECBA Business Analysis Certification - Part 6
Learn Requirements Analysis & Design Definition knowledge area and associated tasks as per IIBA BABOK Guide version 3.0
Access for the lifetime of the course, or at least 3 years
30-Day Money-Back Guarantee
What you'll learn in this part 6
Understand business analysis concepts and tasks specified in the Requirements Analysis and Design Definition knowledge area of IIBA BABOK Guide v3.0
Requirements
Beginner to expert level knowledge and/or experience in Business Analysis
Participant should have completed Part 1 and Part 2 of IIBA CBAP CCBA ECBA Business Analysis Certification course
Description
The whole course provides a well structured approach to help you learn concepts of IIBA BABOK Guide version 3.0 and this part 6 is useful to prepare for IIBA CBAP and CCBA certification as well as ECBA certificate exam.

Key Benefits

Attempt quizzes (after each lecture) and reinforce learning
Earn PD hours for ECBA application
Remember concepts using downloadable PDFs
Content of the Part 6
Introduction to Requirements Analysis and Design Definition knowledge area
Specify and Model Requirements
Verify Requirements
Validate Requirements
Define Requirements Architecture
Define Design Options
Analyze Potential Value and Recommend Solution
Course Duration
Part 6 of the course will take 1.5 hours to complete
The whole course (all 7 parts) will take about 7 hours to complete
Show more/ Hide




Earn PD hours for ECBA application *

As per IIBA guidelines,

Online courses (without actual instructor) will only qualify for PD hours needed for ECBA application (and not for CCBA or CBAP).
You only get 1 PD hour for 1 hour of course content. So, for 7 hours of whole course (all 7 parts), you will earn 7 PD hours for ECBA application.
For rest of PD hours, you can attend other online courses in business analysis and also claim hours spent on studying BABOK Guide.

Please note that course does not cover 50 most commonly used business analysis techniques (described in chapter 10 of BABOK guide v3.0), as it is difficult to provide explanation (with examples) for these many techniques in an online course. However, participants would be able to study use of techniques from the provided downloadable PDF file.


Please also note that the course does not cover 5 perspectives (described in chapter 11 of BABOK guide v3.0), as there shall be no questions on them in the exam (as clarified by IIBA in one of their webinars). However, CBAP/ CCBA aspirants are advised to go through them directly from BABOK guide v3.0.

Who this course is for:


Students enrolled in business analysis academic programs

New graduates who are learning and developing business analysis skills

Experienced Business Analyst

Professionals with business or domain experience who want to change career into business analysis

Managers who manage Business Analysts
Course Curriculum
Introduction
Available in days
days after you enroll
Supplementary Resources
Available in days
days after you enroll
Course includes: 1 hour 10 mins on-demand video | 9 video lectures | 3 downloadable resources
Frequently Asked Questions
Instead of enrolling to so many different individual parts, do I have option to enroll to a single/ full course?
Your Instructor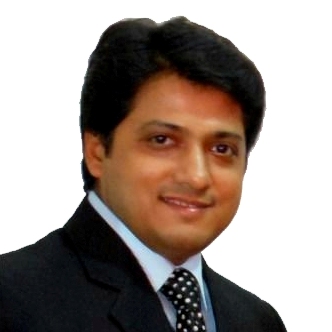 Trividh has about 20 years of experience in Business/ Process Analysis, Consulting, Pre-sales, and Project Management in Insurance (Life/ P&C / Healthcare / Social Security), Banking, Lending, Media and Sports domain.

In past, he has worked for leading IT Services companies such as Capgemini Consulting, Wipro Technologies, Syntel Inc. etc as Business Architect, Lead/ Sr. Business Analyst, and as IT Project Manager. He has executed several business analysis projects for reputed organisations from USA, UK, Europe, Middle East, Japan and India. He has good track record of leading team of Business Analysts to deliver business analysis projects.

Trividh Patel has done Master of Management Studies (MMS) in Systems from JBIMS and Bachelor of Engineering (Electronics) from VJTI, University of Mumbai (India). He has also done PG Diploma in Software Technology (PGDST) from CDAC (erstwhile NCST) and is a Certified Six Sigma Black Belt (CSSBB) by MSME, Government of India.
Trividh is a Certified Business Analysis Professional (CBAP) by International Institute of Business Analysis (IIBA, certificate# 13430221), Canada since March 2012.
For guidance or queries, connect >

Trividh Patel, CBAP | LinkedIn

Timothy Figueroa | Recipient of IIBA Level 3 - CBAP Certification
★★★★✰

Well Organized materials, good coverage.
Trividh Patel, CBAP
Instructor response
Thank you for attending all 7 parts (Part 1 - Part 7) and congratulations on passing IIBA CBAP exam! Well done.

Mrs Robyn Liggins
★★★★✭

Relevant to my role as a consulting BA.
Trividh Patel, CBAP
Instructor response
Thank you for attending all 7 parts (Part 1 - Part 7) of the IIBA Certification Course.

Kristi Whiteaker
★★★★★

Again the only complaint I have is that the grammar used in the questions is sometimes misleading as to what the question is asking. Meaning the question being asked interprets differently because of the wording used.
Trividh Patel, CBAP
Instructor response
Thank you for the feedback, we will identify and correct it. Thank you for attending all 7 parts (Part 1 - Part 7)of the IIBA Certification Course.
Ijeoma Ochulor
★★★★★

Good background knowledge however examples should be given with real life scenarios. It drives down the points more.

Brandi Gorzelski
★★★✰✰

Good information. It would be nice if there were subtitles.

Catherine Jha
★★★✰✰

More examples to relate to real time experience.

Rob Acraman
★★★✰✰

Too much like just a straight reading of the BABOK.

Lisa Nanamaker
★★★★★

Good course. Covered all areas of knowledge in-depth and quizzes tested knowledge.

Maeve Segoto
★★★★★

Straight and on point.
Access for the lifetime of the course, or at least 3 years
30-Day Money-Back Guarantee