About BA Central

BA Central was founded in 2011 with a vision to provide courses exclusively in the field of Business Analysis. Its mission is to design and deliver value for money courses to learners from throughout the globe.
In the past, we have provided instructor led classroom and virtual live courses in business analysis. From 2016 we have started providing self-paced on-demand online courses in business analysis and launched our courses on other eLearning marketplaces and till date over 4000 learners have benefited from over 100 countries.
We now aspire to deliver all new (and ultimately deliver all existing) business analysis courses and trainings from our own website.
There is a saying "One cannot satisfy everyone" and this is also true for all online courses. Despite this, on an average across all our courses, 95% of our learners are "satisfied" (rating of 3 and above) and over 75% of our learners are "happy" (rating of 4 and above), including learners on eLearning marketplaces, and we are confident that our courses will help you achieve your aspirations.
Still, we would never want you to be unhappy! So, we provide 30-day money-back guarantee on self-paced online courses (supported by Teachable platform and payment gateway). If you are unsatisfied with your purchase, contact us in the first thirty days and we will give you a refund.

We welcome those who consider learning as an investment and want to focus on differentiating Business Analysis capabilities.

About Mentor - Trividh Patel, CBAP®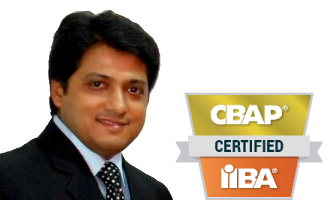 Trividh Patel has about 20 years of experience in Business Analysis and Consulting.
Prior to founding BA Central in 2011, he has worked for leading IT Services companies such as Capgemini Consulting, Wipro Technologies, Syntel Inc. etc as Business Architect, Lead/ Sr. Business Analyst, and as IT Project Manager. He has executed several business analysis projects for reputed organisations from USA, UK, Europe, Middle East, Japan and India. He has good track record of leading team of Business Analysts to deliver business analysis projects.
Trividh Patel has done Master of Management Studies (MMS) in Systems from JBIMS and Bachelor of Engineering (Electronics) from VJTI, University of Mumbai (India). He has also done PG Diploma in Software Technology (PGDST) from CDAC (erstwhile NCST) and is a Certified Six Sigma Black Belt (CSSBB) by MSME, Government of India.
Trividh is a Certified Business Analysis Professional (CBAP) by International Institute of Business Analysis (IIBA, certificate# 13430221), Canada since March 2012.

For guidance or queries, connect >